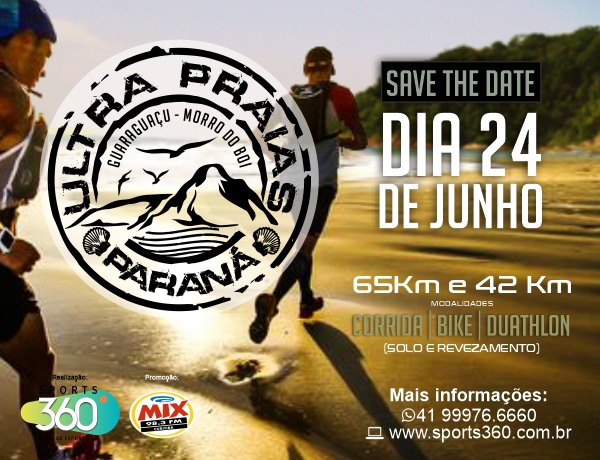 Ultra Praias Paraná
Trail Run
40.39mi
Marathon
5k
About the Event
ULTRA BEACHES PARANÁ is a running, cycling and duathlon race on mixed terrain, with passages over asphalt, sand, trails, streams and beaches.
The departure will be from the Guaraguaçu Community and the route will pass through the legendary ecological roads of Sambaqui, from São Pedro (known as the Butuca Trail) to the Guaviraty Indigenous Village, in the Shangrilá Balneário, where we access the Old Shangrilá Road to the Community of Mangue Seco, in the Pontal do Sul resort.
This first stretch of the race has a length of 22KM and will be covered in dry and flooded trails in the middle of the Atlantic Forest.
Once in Pontal do Sul, we access the stretch by the sea, close to the departure terminal for Ilha do Mel and continue passing through all the resorts on our coast to Morro do Boi, in Caiobá.
More information
Always check the event or organizer website for up-to-date information.
Share with friends
Interested or planning to participate?
You can add an event to your participating or interested list to receive updates and create your own event listing and calendar