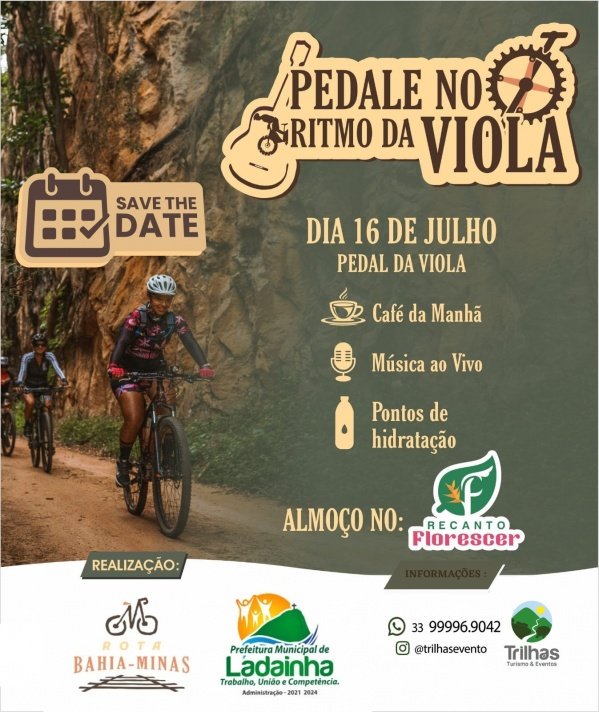 Pedal da Viola
About the Event
Pedal da Viola is a face-to-face event that will take place on July 16, 2023, in Recanto Florescer, Ladainha - MG. The bike ride will have a distance of 40km and will pass through beautiful landscapes, waterfalls and historic buildings on the old Bahia-Minas road. In addition, participants will be able to enjoy delicious food and lots of live viola fashion.
The program begins at 7:00 am with the gathering and departure from Recanto Florescer. Then, there will be a stop at Café da Neia - Comunidade Brejaúba, where participants will be able to visit the waterfall in the tunnel and pass through the tunnel. At 11:00 am, the group will arrive in Ladainha for a city tour of the region's historic buildings, passing by the Wenefredo Portela power plant. The event will end at Recanto Florescer with lunch and live music to the sound of the viola and awarding of medals.
The ticket price is R$70.00 (ZERO lot) and information can be obtained by calling (33) 999969042. It is important to emphasize that order cancellations will be accepted up to 7 days after purchase, provided that the request is sent 48 hours before the start of the event. In addition, it is possible to edit the attendee of a ticket only once, up to 24 hours before the start of the event.
The event is produced by Trilhas Turismo e Eventos and promises to be a unique experience for bicycle and country music lovers. Book this date and participate in Pedal da Viola!
Prices
Pedal da Viola
Pedal completo com café da manhã almoço no Recanto Florescer e muita moda de viola.
R$77.00
Acompanhante
Para desfrutar de um dia inteiro no Recanto Florescer
R$60.50
More information
Always check the event or organizer website for up-to-date information.
Organizer
Share with friends
Interested or planning to participate?
You can add an event to your participating or interested list to receive updates and create your own event listing and calendar