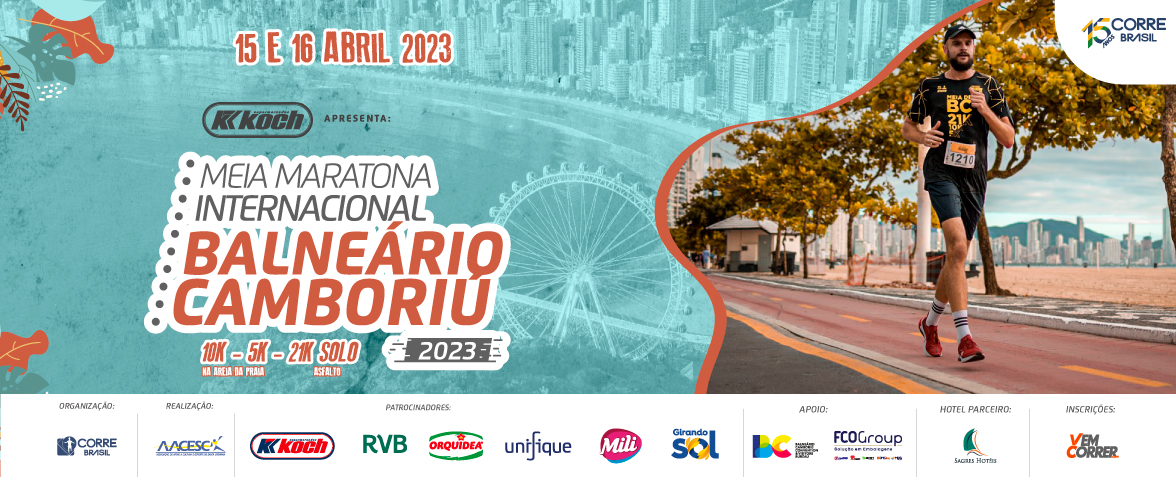 Meia Maratona Internacional De Balneário Camboriú 2023
Running
Half marathon
5k
10k
About the Event
The Balneário Camboriú Half Marathon will be held on April 15 and 16, 2023.
The race maintains its format in two days, where the 5km and 10km modalities, with a route on the beach sand, will be held on Saturday afternoon. And on Sunday, April 16th, the 21km race takes place on asphalt, exclusively for half-marathoners.
In 2023, the proposal is to create an experience that goes beyond the race. For this reason, the Balneário Camboriú Half Marathon will unite music, art and running, in perfect harmony to create a unique atmosphere. The race will also award the fastest athletes making it even more desirable!
The Balneário Camboriú Half Marathon is held on one of the most beautiful shores of our coast, and in addition to the amazing look, it has a challenge in the altimetry of the route with the charming Estrada da Rainha.
Going beyond all sporting attractions, the Balneário Camboriú Half Marathon innovates once again, and to close the event's schedule, it will present a great National Show with Vitor Kley. And it doesn't stop there, throughout the course, athletes will feel the vibe of the city and upon arrival, they will find an arena with artistic interventions, structure and impeccable organization to provide a sophisticated, desired and exclusive experience in front of the sea!
More information
Always check the event or organizer website for up-to-date information.
Share with friends
Interested or planning to participate?
You can add an event to your participating or interested list to receive updates and create your own event listing and calendar