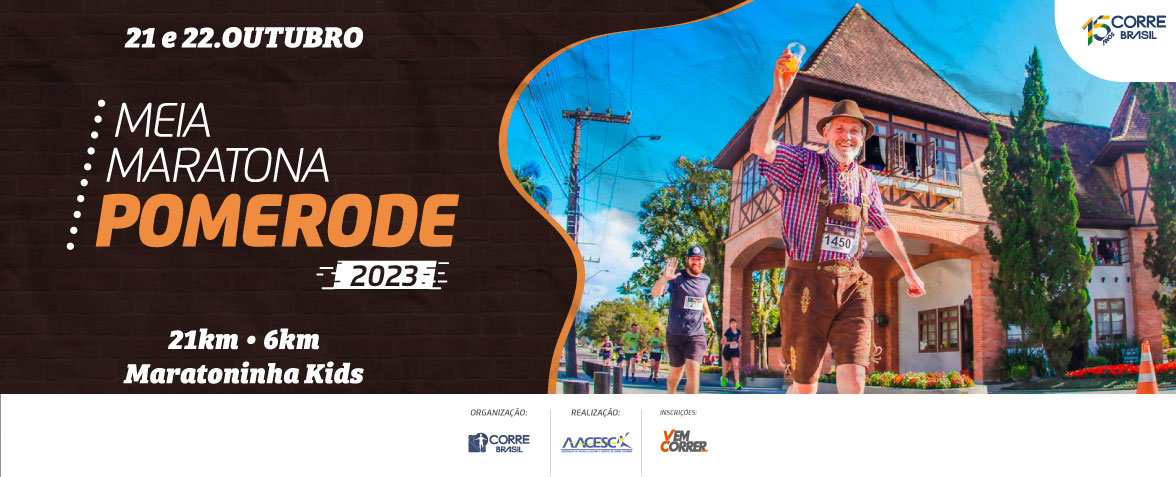 Meia Maratona De Pomerode 2023
Running
3.73mi
Half marathon
About the Event
The Pomerode Half Marathon is a true immersion in Germanic culture and the only Half Marathon with draft beer on the course. The race takes place on October 21 and 22, 2023, in the Rustic Race (6km) and Half Marathon 21km modalities, as well as the Maratoninha Kids modality.
Pomerode enchants tourists and residents all year round. Half-timbered houses, clean streets, a strong presence of green areas, German culture in every detail. The gastronomy and tourist attractions offer a complete program for athletes and their families.
Held since 2008, the Pomerode Half Marathon received the title of one of the unmissable races and then became popular among runners from all over Brazil. The race appropriates the culture of the city and, in addition to bringing together features that many runners like, such as a flat course and a unique modality, a fun and hospitable theme, the draft beer on the half marathon course and at the finish lines to crown the victory, make the race a big party!
In 2023, the race will celebrate 15 years of history. Tributes to the athletes who are part of the trajectory and an incredible edition of RunFest, with typical bands, folk groups, foodtrucks, cold draft beer and German games are scheduled to toast the arrival of the athletes.
More information
Always check the event or organizer website for up-to-date information.
Share with friends
Interested or planning to participate?
You can add an event to your participating or interested list to receive updates and create your own event listing and calendar