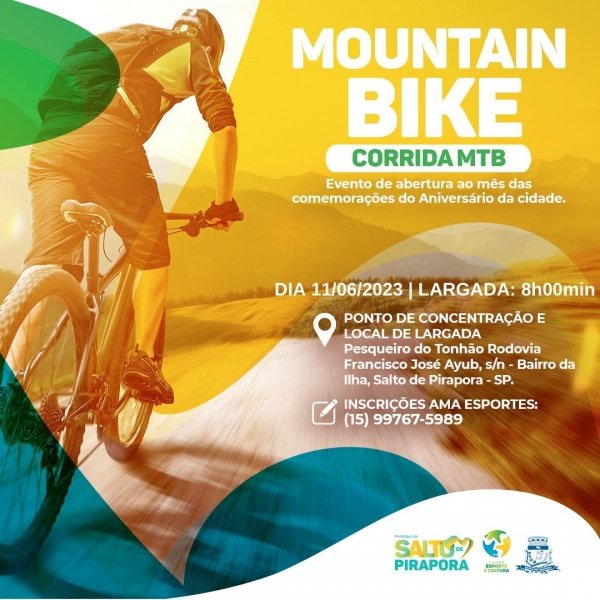 DESAFIO MOUNTAIN BIKE - SALTO DE PIRAPORA SP
About the Event
The Mountain Bike Challenge will take place in the city of Salto de Pirapora, in São Paulo, on June 11, 2023. With a unique distance of 38 km, the event will be held at Pesqueiro do Tonhão and will start at 8 am, with pick up from sign from 6:15 to 7:40. The race limit is 3 hours after the start.
All athletes will receive a participation medal and there will be trophies in general and in categories, with categories every 10 years. The top 5 both overall and in categories, both genders, will receive trophies.
AMA Esportes is the company responsible for the event and has a bureaucratically correct CNPJ, in addition to company managers duly registered with the CREF. With almost 20 years of experience in sports, AMA Esportes is a serious, objective and responsible company in relation to sporting events.
Order cancellations will be accepted up to 7 days after purchase, as long as the request is sent up to 48 hours before the start of the event. You can edit a ticket's attendee only once, up to 24 hours before the event starts.
Don't miss the opportunity to participate in the Mountain Bike Challenge in Salto de Pirapora and challenge your limits on an exciting route. Contact AMA Sports for more information.
More information
Always check the event or organizer website for up-to-date information.
Organizer
Share with friends
Interested or planning to participate?
You can add an event to your participating or interested list to receive updates and create your own event listing and calendar