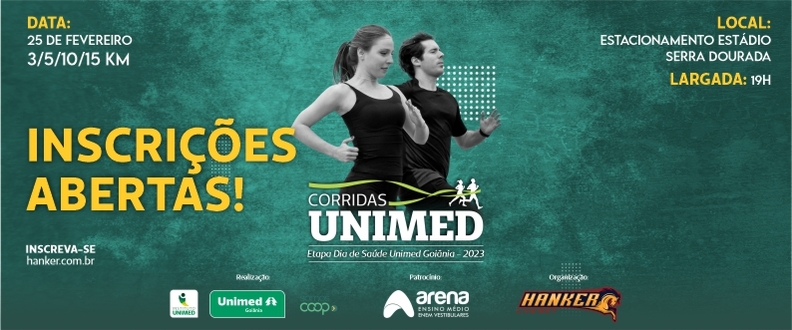 Corridas Unimed - Etapa Dia De Saúde Goiânia 2023
About the Event
The event "Unimed Races – Stage Day of Health Goiânia 2023" is a sporting and social initiative aimed at members, cooperative members and the public that practice street running. The event will be held on 02/25/2023, with departures at 7:00 pm (15km and 10km courses) and at 7:10 pm (for 3km and 5km courses), in the parking lot of the Serra Dourada stadium, Goiânia - GO, under any weather conditions . Athletes of both sexes, regularly enrolled, who are proven to be in perfect health conditions and with up-to-date vaccination records, may participate in the race.
The routes will be a 3km Walk, 5km Run, 10km and 15km with uphill and downhill runs, through the streets of Goiânia.
More information
Always check the event or organizer website for up-to-date information.
Share with friends
Interested or planning to participate?
You can add an event to your participating or interested list to receive updates and create your own event listing and calendar