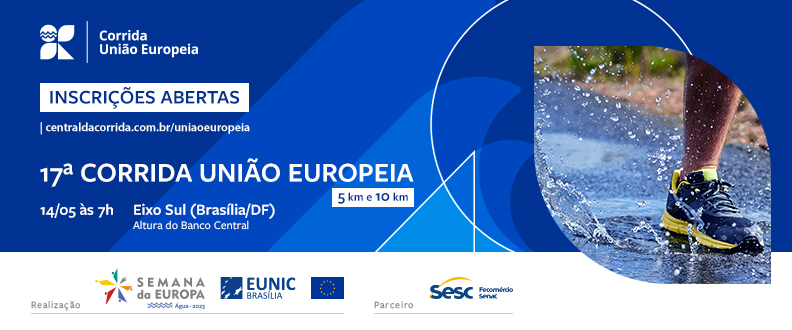 17ª Corrida União Europeia
About the Event
European Union race opens registration for its 17th edition
The event takes place on May 14, at Eixão Sul.
The European Union Race is one of the main sports attractions on the Federal District calendar. The event is part of the 19th Europe Week programme, which is organized by EUNIC Brasília (Association of Cultural Institutes, Embassies and Consulates of European Union member countries) and by the Delegation of the European Union in Brazil.
In 2023, the Race will take place on May 14th, closing the celebrations of the 19th European Week, which this year is dedicated to Water. The Race arena will be set up at Eixão Sul and the start is scheduled for 7 am, with an expected participation of 2,000 athletes. Participants can choose routes of 5km and 10km. The 5km route is open to runners aged 16 and over. The others, to anyone over the age of 18 and in adequate physical condition to practice sports.
With the aim of promoting sport for People with Disabilities (PCD), the Race has a special modality for these athletes. There will be 5 km for wheelchair users and walkers.
The first three places in each modality, including the PCD category, will be awarded with trophies.
All registrants will receive an event T-shirt, and those who complete the course will be entitled to a medal. The time of each one will be timed using an electronic chip, with the result published shortly after the event, and the certificate of participation can be printed on the race website. The structure set up will have a complete medical service, support staff, luggage storage for participants and a stage for drawing lots and interacting with the public.
More information
Always check the event or organizer website for up-to-date information.
Organizer
Share with friends
Interested or planning to participate?
You can add an event to your participating or interested list to receive updates and create your own event listing and calendar